WordPress Development Company in Thailand
The demands for custom WordPress Website Development Services has seen a continuous increase, its market share among all content management systems is close to 60 percent. This CMS platform empowers the websites that are easily manageable and user-friendly. WordPress technology powers over 26.9% of all websites on the web. Among the blogging platforms, it is the primary choice. Custom WordPress development companies are preferred because one can make the most of the latest technologies without feeling the pinch in a pocket.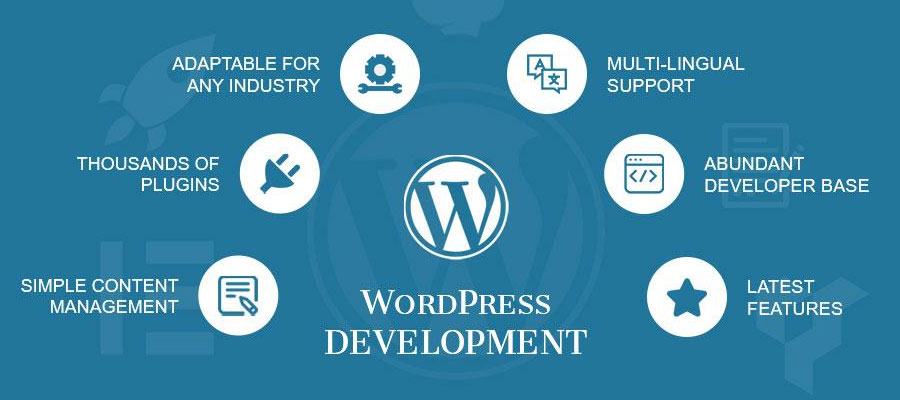 As best WordPress Development Company in Thailand, We offer WordPress website development services with the focus on originality, flexibility and a unique, high-quality product that other WordPress developers cannot match. Our custom WordPress development services in Thailand match any budget and will fit your needs too. Hire WordPress developer for all kind of businesses from small-time startup to big multinational companies.
Top 5 Reasons To choose WordPress Website Development Company Thailand
Cost Effective
Most powerful websites are found using WordPress. Also one can come across phrases saying WordPress comes for free. But not all features of it. So don't get duped thinking that WordPress website development comes for free. In general the cost of a custom WordPress website will depend on the budget, client's requirements and the specifications if any. An operative WordPress website will be charged for Web Hosting, domain name, designs and themes and more. We focus on building one such precise website without wasting a penny of yours.
Easy to use
WordPress is believed to be the most flexible and easy to use Content Management System even for an amateur. This can happen if a website is built using clean and organised code along with the perfect backend codes. A WordPress website development company like us will concentrate on doing it the right way, so as to make it easy to use. Also once a custom website has been built using WordPress, an individual need not even know the codes but continue working with it.
SEO Friendly
In general, it is believed that WordPress itself boosts the website's SEO. It is extremely search engine friendly and can add the plugins needed to give a push to the website so as to improve on the search engine rankings. However, a WordPress Website development company should concentrate on providing both customer friendly and search engine friendly designs for better results. We ace at doing the task in the right way through our, WordPress developers and any issues could be easily addressed.
WP Plugins
Plugins are a set of codes that need to be installed along with a WordPress website to enhance its features and working ability. However, finding the appropriate plugin is the difficult task. But once found, installing it and activating it on a website is pretty easy and can be done by an individual in hassle free manner. However, an experienced WordPress development company can provide the appropriate WP plugins for an easy operation of a website without much difficulty.
Responsive
A slow loading website can be a definitely the most irritating place to visit for an individual. And if you have a slow loading ecommerce website believe it or not, you lose most of the customers mid-way. Therefore, make sure you will have a responsive website which is quick and a properly managed. WordPress website is one such quick, responsive and properly managed website, when designed by expert WordPress website development companies like us managing proper themes and using all the needed plugins.